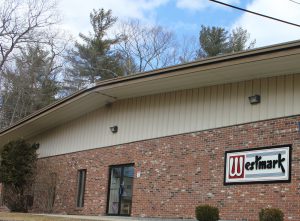 June 1, 2020

:  Throughout the Covid-19 pandemic, Westmark has been able to keep its doors open in order to keep providing the critical materials needed by the health care industry among others.  As each states economy reopens we will continue to be here to help you restart your businesses.  We continue to replenish our inventory and are in the process of adding new materials such as Barrier cloth used in the making of  PPE gowns, stay tuned!  Please contact your sales representative to update us firstly on how you/your staff are doing and also let us know it is that we can do to help in returning business to normal, however that may look. We greatly appreciate the hard work of all of our employees during a truly stressful time—Together, We Will Beat This and Shall Be Stronger Than Ever Before.
Westmark Corporation Owners/Management
***Limited Supply of our Woodland Camo Chemical Warfare Suits Remaining***
Westmark Corporation was founded in 1981 in the Fabric Conversion Industry and has grown to be an Industry Leader. Our industrial and recreational fabric lines feature stock programs in both nylons as well as polyesters. Whether you need roll goods, case lots or dye-lots, we are ready to fill your order.
Our wide range of stock fabrics include 30D Ripstops in multiple versions, 70D Ripstops in multiple coatings, 200D in Urethane Coated and also an *FR version (200D701NFPA), 200D/210D Oxfords, 400D/420D Packcloths, 600×300 Vinyl Coated Polyester, 1000D Nylon in Domestic as well as Taiwanese Import, 1000D Cordura, Ballistics such as 840D, 1050D, & 1680D. We now have 72Dx75D Polyester Barrier Cloth— used in PPE Gowns. We also carry a wide range of Specialty Coated fabrics. Click Here To Browse All of Our Products.
We carry a wide variety of fabrics mostly in the Nylon category with a few exceptions.  Below are examples of some of our fabrics and their uses by category:

*Sport, Tenting & Outdoor Fabrics (Shelters/Blinds/Stuff Sacks/Parachutes/Boat Covers)—30D Silktique, 30D Ultrasil, 70D Silicone Coated Ripstop, 70D Import Ripstop, 200D 701 FR.
*Bags, Packs, Totes, Mattress/Kiosk Covers, Animal Blankets, Etc—70D PVC Taffeta, 210D, 400D Packcloth, 420D, 600Dx300D PVC, 600D, 1000D, 1000D Cordura, 1000D MilSpec
*Military Style Fabrics—400D Berry Comp, 500D, 1000D Cordura, 1000D MilSpec
*Fire Retardant Fabrics—70D FR Ripstop, 70D FR Import Ripstop, 200D 701 NFPA FR, 200D T6.6 FR Black/White
*Ballistic/Heavy Duty Fabrics—840D, 1050D, 1680D
*Specialty Fabrics—70D Black/White Opaque Ripstop, 70D Slicker Ripstop, 200D T6.6 FR Black White
We have the ability to process any of our fabrics in dye-lot form. Whether you need your fabric to meet a Mil Spec or need a special shade, coating or finish, our staff can work with you to develop the fabric to meet your manufacturing needs.
We also offer an open cell Foam & Tricot Lamination Program. For those projects with a tight budget we have an extensive line of first quality closeouts and seconds. If you don't see the closeout fabrics you are looking for, please contact us, as our inventory changes daily.
Our Mission at Westmark Corporation is to provide quality fabrics to manufacturers in the United States and across the globe. We stand behind the products and services we offer, and our reputation is proof of that.
We welcome your comments and any questions you may have. Give us a call or email us from using the Contact Us page. We look forward to hearing from you and the opportunity to earn your continued business!
"The faith of a fabric hangs by a thread…" -Joseph N. Baker (CEO, Founder, & Beloved Boss)